Tämän yhdistelman takana korkeatasoisia rodun linjoja ,edustajia,periyttäjiä:Alla kuvia  muutamista innoittavista ja vaikuttavista sukujen edustajista nostalgisessakin mielessä.Here are some this combination`s high quality ,inspiring dogs in many ways,which are behind this combination.Both Parents have strong bones and big sizes,and light moving in spite of their big size.
Thelma has 2  xCAC.3 xCACIB, and  Spunky Pal :3xCACIB, Fin &EST CH
The photos below of  some of their excellent,high quality background dogs:
MultiWinner-MultiCh-INT Ch VDH Champion etc.KinglordsMr De-Sevresgrangrandfather,MultiCh-IntCh NemesisVonSissyHaus(born in Hungary,lives in Estonia),MultiW-MultiChINT Ch -grandmother,TeamaidesGästrikeGutten,(Sweden)grandfather,FinCh KinglordsMissBumbleBee,grand-grandmother,Int Ch Cerberus von Rivierengebied(Belgium)grandfather..
Not unfortunately photos,but also the impressive behind:Int &MultiCh-Winner RemrödsMoyaGracilis(Sweden),grandmother,INt Ch&Multiwinner LeoniitanWashablel lion,grand-grandgrandfather,HCh InkaV.SissyHaus,(Hungary)grand-grandmother   ItCh BerjlonUlisse(Italy) grand-grandfatherFin CH KInglordsMiss Sefanja, grand-grand-grandmother,she has many high quality children in the world.
GrimyFaces Spunky Pal front
KInglordsMissThelma standing
GrimysSpunky Pal running in the ring with Jaanika
KInglordsMissThelma front
KinglordsMissThelma, highness 73cm ,the weight 58kilogr.
EST&FIN CH Grimyface`s Spunky Pal,the highness80cm,the weight 78kilogr,hips A/A,0/0
INT Ch&MultiCh NemesisVonSissyHaus, SpunkyPal´s mother, the weight 66 kilogr,  hipsA/a elbows 0/0
INtCh&MultiWinnerCruftW-08TeamaidesGästrikeGutten, SpunkyPal`s father, hips A/A elbows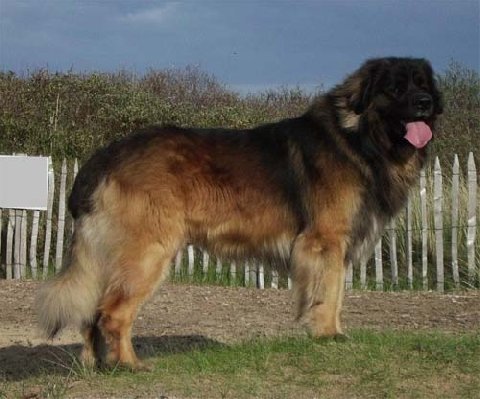 INT CH Cerberus V.H. Rivierengebied,Thelma`s daddy from Belgium,hips A/A elbows0/0
INT&MultiChMultiWinner,MaailmanV-02The TOP-Leonbergerof Finland  in years 2001,2002,2003,2004,VDH Champion Kinglords Mr De-Sevres, grandfather,highness 80cm the weight 75kilogr,hipsB/B elb0
KinglordsMr De Sevres
FIN CH KinglordsMissSefanja,the grandgrandgrandmother, kaiken hyvän alkuja. the beginning of all good
FINCh KInglordsMissBumbleBee,grandmother